Hey guys it's Nick here with an interview with Frank Forte from Asylum Press.  Frank Forte is the Publisher at Asylum Press and he's also an Artist and Writer for some of thier comics. Check out the interview after the break.
1) How long have you been writing comics and what inspired you to begin writing them?
I've been writing and drawing comics since High School.  My fist published work was in Cerebus Bi-Weekly.  After that I wrote, drew, and published 4 issues of a Horror anthology From Beyonde in 1991.
2) Artistically, who are your major influences and why?
In comics it's Berni Wrightson, Michael Golden, John Byrne, Frank Miller, Ricjard Corben, Graham Ingels--all the Ec artists, MAD, Cracked--I mean so may from so many time periods--and for different reasons.  For a long time I hated cartoony stuff--I just wanted action and horror. Now I love classic cartoony comics. For a period I was all X-Men and Marvel--then I found Heavy Metal and EPIC Illustrated and it changed everything for me.  It made me realize what comics could be.
3) Which of your artwork pieces is your favorite?
Shoot--I don't know.  Probably some of the more recent stuff.  because I feel I keep getting better and anything too old--I mean I look at it and see all the mistakes.

4) Which of the titles was your favorite to work on? Would you like to go back and work on it again?
Vampire Verses was fun.  I'd really like to finish that series.  it's hard to find time as you get older.  Too much life gets in the way.  When I was younger I had all the time in the world to draw comics.  it didn't matter that it wasn't making money.  Also Billy Boy The Sick Little fat Kid--I actually have a bunch of pages that were never published- I want to put them out digitally. 
5) When did you start Asylum Press? How did you come up with the name?
Asylum Press started in 1999.  I felt I was a little insane and wanted a name that appeared first alphabetically.  I always liked the idea of inmates in an asylum taking over.
6) What is like to have your own publishing company? Do you enjoy being able to publish anything you want?
Yes, but it is a lot of work.  Half of the battle is publishing--but you also have merketing, sales, distributing, mail orders, updating websites, etc. etc.  To be honest I'd rather be drawing comics full time and let someone else publish.  But there are some perks.  You can decide what you want to put out--and publish other books you like.  But it ain't all fun and games. 
7) Bringing something different to the industry is definitely important and refreshing. What made you want to start your own publishing company?
I guess I got sick of being rejected and I thought--I'm good, I can do this myself--I don't need any publishers.   With a little money and some research into how to publish you can start a company.  It was much easier to pull a profit in the 90's than it is today.  But with digital now--you can reach way more people than a decade ago--so that is very cool.  But we can't deny that the print medium seems to be dying.  So that's sad.
8) I noticed you mainly write horror, science fiction, and action genre comic books. Do you have any other projects you would like to work on that aren't in the genre?
These will be short form animated films.  It's pretty fun to do, but does take time.
9) What are some your favorite horror and science fiction movies and television shows?
I love Alien, Evil Dead 1 and 2, Undead, Tales from the Crypt.  Right now I'm into The Walking Dead and The Killing.  Also Breaking Bad.  Don't watch too much SYFY channel, but I like films like Sunshine and Moon. 
10) What are your plans for the near future? Do you have any new books coming out?
We have 4 digital first books. Trenchcoats, Cigarettes and Shotguns, written by Chuck Brown and illustrated by Philipp Nuendorf;  When the demonic mob murders the friend of a mysterious hit man named, Trypp; he begins to leave a path of death, destruction and blood to avenge her. But he also begins to embrace the darkness within his soul. Black Powder #2, a bloody frontier adventure, by Dwayne Harris, can be described as a "Buckskin Apocalypse Now".  Robert Young and his crew set out on the Mississippi River in search of Molly Livingston, who has been captured by the ruthless river pirate Samuel Mason.  As they make their way north, against the current, they approach hostile indian territory as well as the first in series of terrible earthquakes.  Farmhouse is a tale of a drifter who falls in love with an artist undergoing an experimental art therapy regimen, by Elizabeth J. Musgrave and Szymon Kudranski. Chopper #2 Preview: (written by Martin Shapiro, Illustrated by Juan Ferreyra) Christina and her rowdy girlfriends go to the Daytona Bike Week motorcycle rally and sneak into a nightclub to see a heavy metal band. After taking a hit of the supernatural drug known as Stairway to Heaven, Christina and Trish encounter the ghostly Reaper, a headless Hell's Angel on a chopper who collects the souls of sinners in the afterlife.
11) What comic books are you currently reading and following?
I read Heavy Metal, Hellboy, I bought a bunch of the new 52 but haven't had time to read.  Reading the Walking Dead via the trades and rereading Preacher right now.
12) What advice do you have for any aspiring writers and artists reading this
Stay off drugs and draw as much as you can.  Art classes and life drawing are a must.  Get a blog and have a Twitter and Facebook page.  And digitally self publish if you keep getting rejected.  You just have to get your stuff out there. 
Thanks for taking the time out of your day to do an interview with us, I really appreciate it. 
You guys can check out Asylum Press at any of these websites below. 
I will be providing some art and comic covers after the bump so make sure to check those out.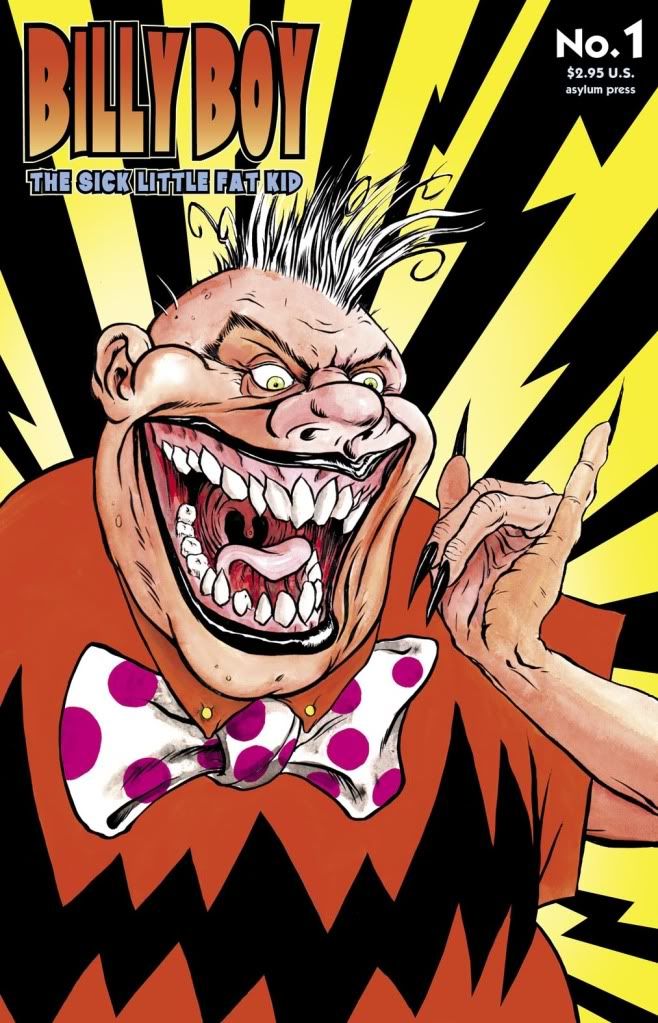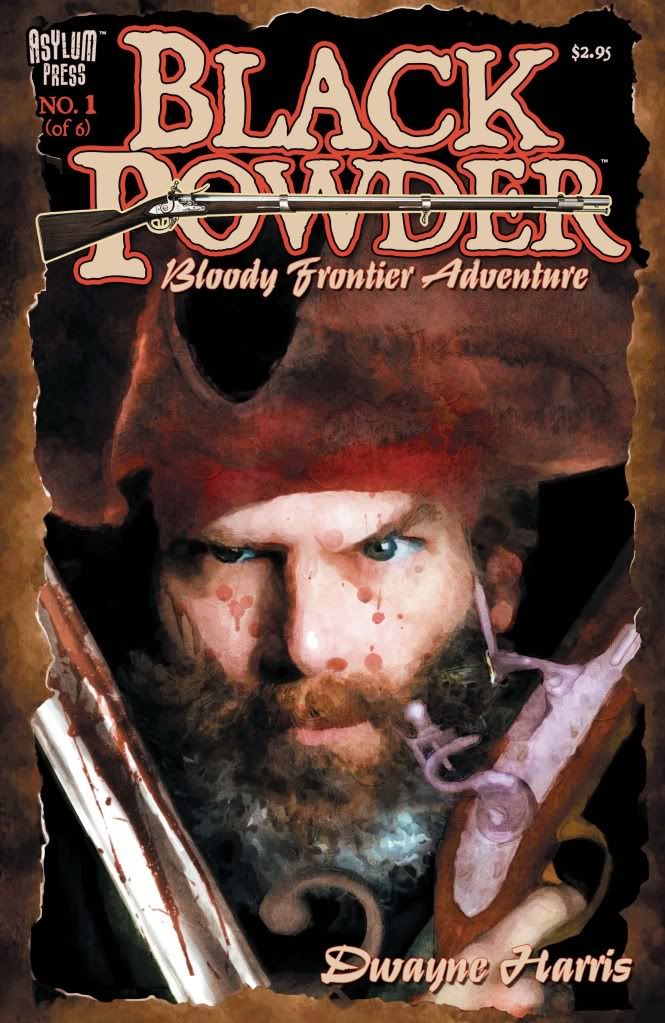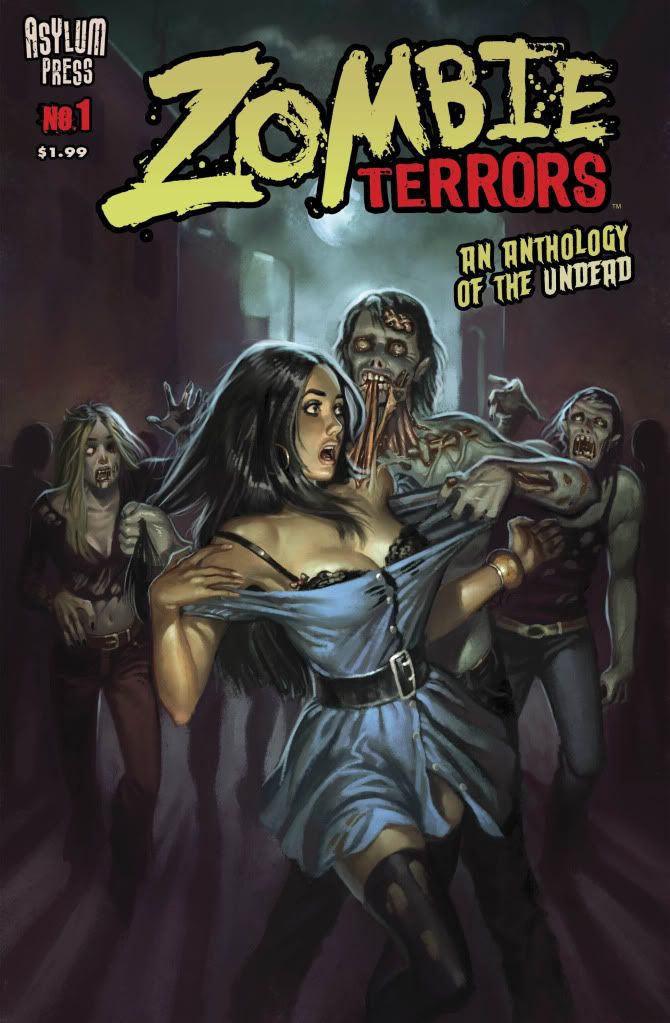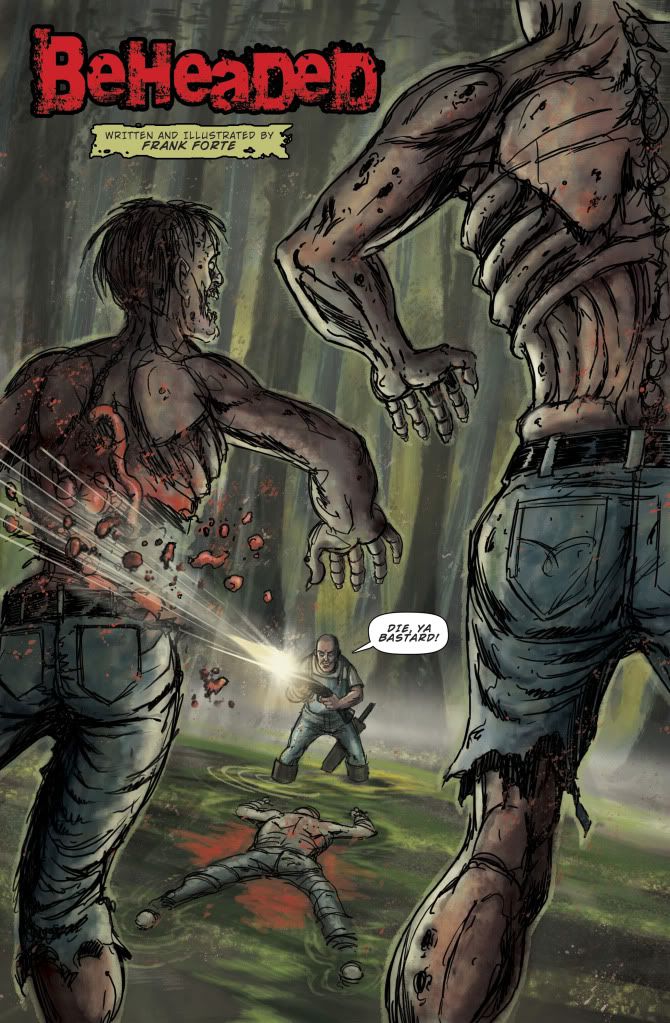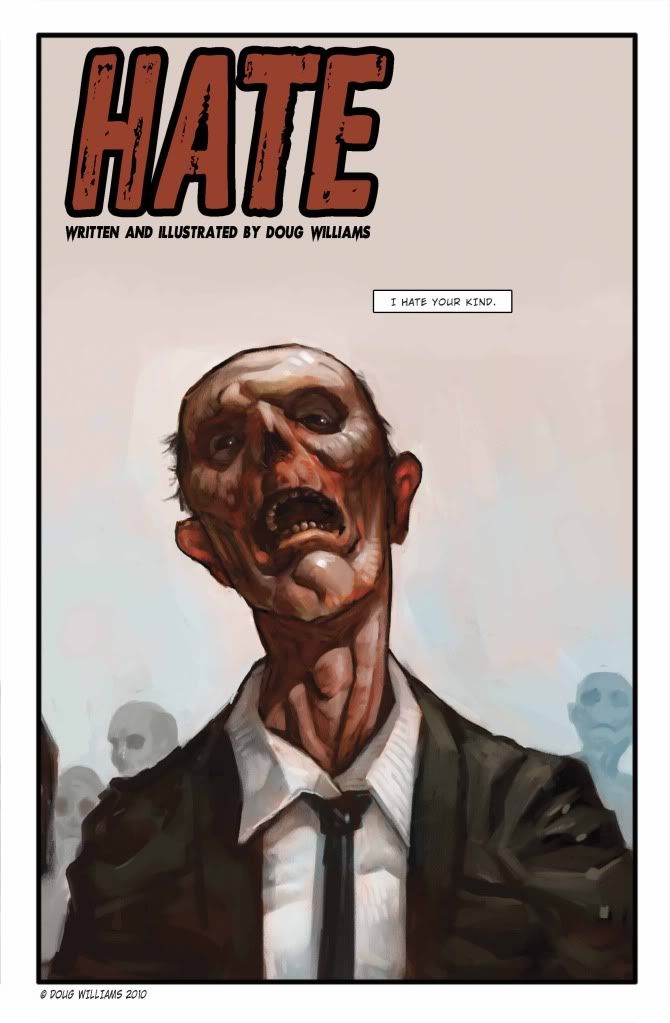 -Nick